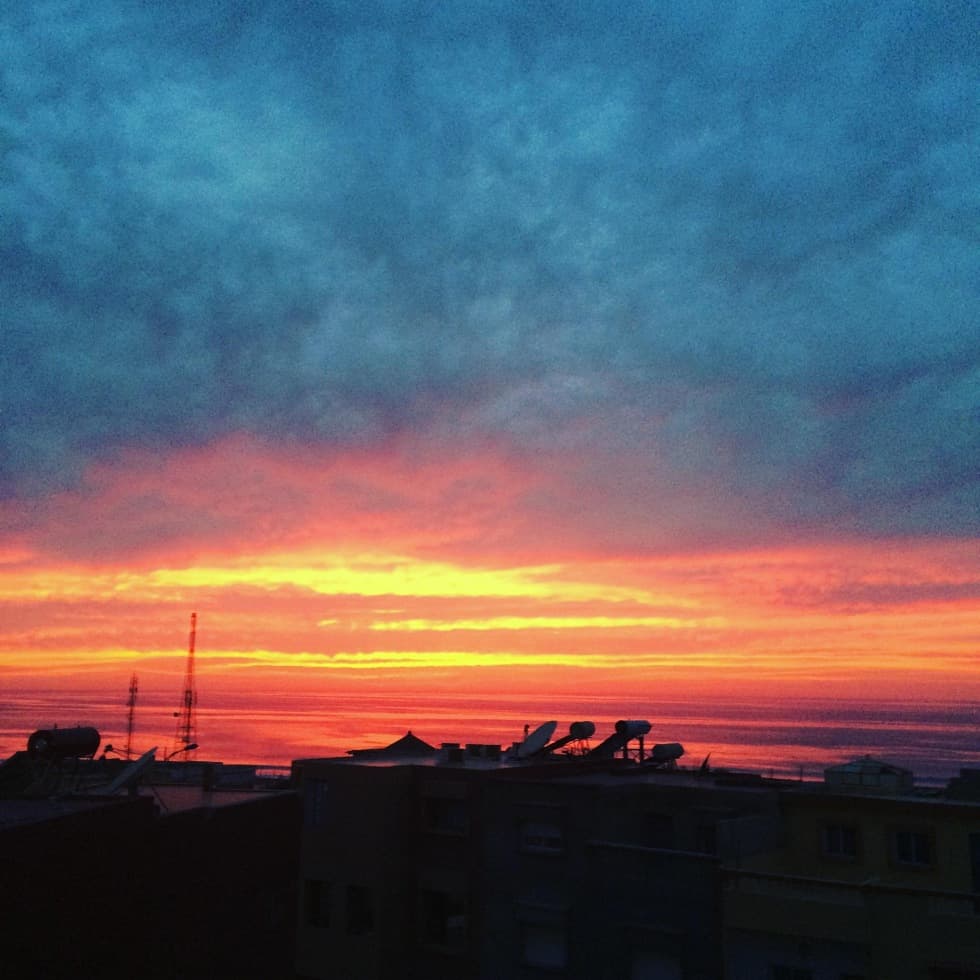 If you travel light and have your own equipment or you don't surf at all but you want to explore Morocco and all its beauty.
Come and stay with us!
double private room
1 night
4 bed shared room
1 night
double shared room
1 night
Kids under 6 are staying for free on additional bed - only in double bed rooms and needs to be arranged before your stay.
30% discount on accommodation for children from 6 - 14 years age
10% discount on accommodation for stays longer than 10 days
20% discount on accommodation for stays longer than 20 days
NOMAD means that we just provide your accommodation and the rest is up to you. If you are interested in great breakfast for 3 euros we will make it for you. You can stay in a 2-bed room or a 4-bed room, the minimum stay is 2 nights. You can pay in advance to our account in CZK or EUR or in cash here in EUR or MAD (Moroccan Dirham). We recommend you book your trip in advance.
You can use the shared bathroom and toilet, every floor has its own. You can also use washing mashine for 2 EUR per cycle. WIFI is included in price. If you are interested in surf lessons or surf equipment we will always find the best solution for you, depending on your experience and needs.
The price does not include transfer from/to the airport. We can offer you transfer from the airport in AGADIR for 60 EUR and MARAKECH for 120 EUR. You can also travel by public transport, check the information provided.
The insurance is not included.
Kids under 6 can stay for free on an extra bed (possible in just double bed rooms).
Transport from / to the airport
We can provide you a taxi if you need. There will be taxi driver Said waiting for you at the airport and drive you safely to our house.
MARAKECH is 266 km far and you can enjoy about 3 hours ride. People don't. rush in Morocco and observe the regulations. Price for a taxi is 120 EUR. Taxi can take 4 - 6 people according to arrangement.
AGADIR is 82 km far and ride is about 1 hour long. The road is alongside the coast and you can enjoy beautiful views. Price for taxi from Agadir is 60 EUR. Taxi can take 4 - 6 people according to arrangement.
Rent-a-car
You can rent a car via Europen and world gigants like SIXT, EUROPECAR or BUDGGET. You can pick it up at the airport and also leave it there after your trip. Company blocks money on your credit card / account as a deposit which is usually about 14 000 MAD / 33 000 CZK / 1320 EUR. Price for 1 liter of petrol is about 1 EUR / 22 CZK.
Transport by buses, shared taxi and hitchhiking
Buses - you can try public transport if you are feeling adventurous. It is really fun and you can sometimes meet some very interesting people. You can use a combination of buses from Marrakesh to our village via Essaouir and Tamanar, then you can hail a taxi or hitchhike, the travel time is approximately 6 hours (if you are lucky). Price would be approximately 20 EUR/person. The journey would take a third of the time from Agadir and the price would be lower, depending how you handle it. Shared taxi or taxi "hitchhiking" works perfectly, you just never know how many people are going to be in taxi with you. You are also likely to pay more than locals if they see you are a tourist. If you take all seats in taxi you will pay about 60-70 EUR (if it is not our taxi). A couple would pay about 20 - 30 EUR in a shared taxi. There is no bus stop in our village the closest stations are TAMRI or TAMANAR. It is possible to ask the bus driver to stop at the main road above our village Imsouane and then hitchhike to us.
Insurance
Insurance is not included in the price but we recommend to have it. We can
Food and the water
We are drinking tap water here, we prefer that instead of water from plastic bottles. Nobody from us have ever problem¨caused by water. We cook mainly vegetables, fish and seafood. There is fish market in the village where are local fishermen selling their fish, everything is local, meat, vegetables and fruits in great quality. Great avocados and one kilo of tangerines for 10 cents.. What is not easy to get is cheese and salami. But it is not problem for us to get it for your breakfast.
House equipment and neighbourhood
mamaafrica.surf offers you fully equipped background. Every floor has fully equipped kitchen, a fridge and bathroom with a toillet. There is lounge sitting inside and out., rooftop terrace with a wonderful view overlooking the ocean and sunsets. We have WIFI, a printer and working space with a computer. House is 200 metres far from Pointe d´Imessouane beach and 400 metres from spot La Cathedrale. Surf spot is two minutes far from the house.
Visas
Please always check the visa situation at your home country before the journey to Morocco.